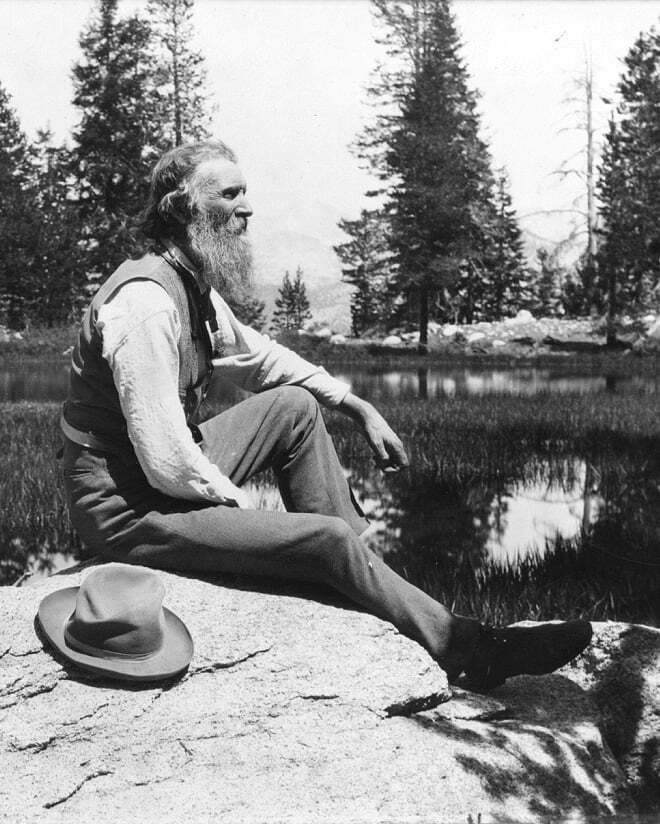 To be a Pilgrim
2020 is the 'Year of Pilgrimage'. This got us thinking about John Muir as a pilgrim and about those who make a pilgrimage to come to John Muir's Birthplace.
"Now these mountains are our Holy Land, and we ought to saunter through them reverently" (John Muir)
John Muir was an out-and-out pilgrim all his life. Not in the traditional sense but, as Collins Dictionary defines, in the sense that throughout his life he made journeys to places that were important to him. Muir had no use for Man's constructions or the relics of Saints but instead he tweaked the idea of pilgrimage until it suited him. He early hit on the notion of 'sauntering', which he took to be a term derived from Medieval pilgrimage, and made it his own. Sauntering slowly through wilderness, mountains and forests he took the time to observe and record, saturated in the spirit of nature he felt all about.
An early Sierra Club member, Albert Palmer expressed Muir's view in a memoir

"Do you know the origin of that word 'saunter?' It's a beautiful word. Away back in the Middle Ages people used to go on pilgrimages to the Holy Land, and when people in the villages through which they passed asked where they were going, they would reply, "A la sainte terre,' 'To the Holy Land.' And so they became known as sainte-terre-ers or saunterers. Now these mountains are our Holy Land, and we ought to saunter through them reverently, not 'hike' through them."

https://vault.sierraclub.org/john_muir_exhibit/life/palmer_sauntering.aspx
Even his last major journey in 1913 can be regarded as pilgrimage. In a sense he began that journey in 1868 when he determined to follow in the footsteps of his hero Humboldt. On this last trip he finally reached the Amazon, ascended into the Chilean Andes to saturate himself with the experience of the Monkey Puzzle tree forests, and ventured to Africa to view the remarkable Baobab tree in its natural environment.
Several years earlier he undertook an even more explicit act of pilgrimage in venturing to Concord, Massachusetts and nearby Walden Pond, the haunts of one of his never-met heroes, Henry David Thoreau the Transcendentalist philosopher, whose works had great influence on Muir.
Now John Muir's Birthplace is a similar place of pilgrimage to some. In part it is because of the renown in which Muir is held, not only in the United States but also across the globe. But also because the Birthplace is now the terminus of a 130 mile walking route from west coast to east through the central valley of Scotland (https://johnmuirway.org/ ).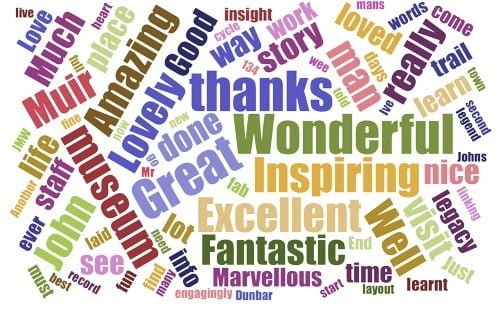 It's only at a period such as this, that we ourselves can begin to look more deeply at what we do and how we and the Birthplace appear to our visitors. Thanks to the indefatigable work of one of our trustees our visitor books have been transcribed and converted into word-clouds. Within the mass, several words point directly to the concept of pilgrimage – awesome, thought-provoking, inspiring and inspiration and inspirational, wonderful experience, humbling, healing, enthralling, and more. It is probably fair to say that these are possibly not often concepts written in the visitor books of small town museums! Sometimes it is even more explicit, as these two (anonymous) comments from within the past year reveal:
This is a pilgrimage for us!

Feels like a pilgrimage to come here.
We are closed just now, as the whole world adjusts to unprecedented times, but we will be back. And when we reopen, we'd be delighted to see you. You don't have to hurry – take time – saunter – through John's home town, explore the coast, the castle ruins, the harbours, streets and wynds that were there when John was a boy. And then drop into the Birthplace and tell us what you think! And like the pilgrims of old, perhaps take home a memento of a journey well made.
#MuseumFromHome
#2020YearofPilgrimage