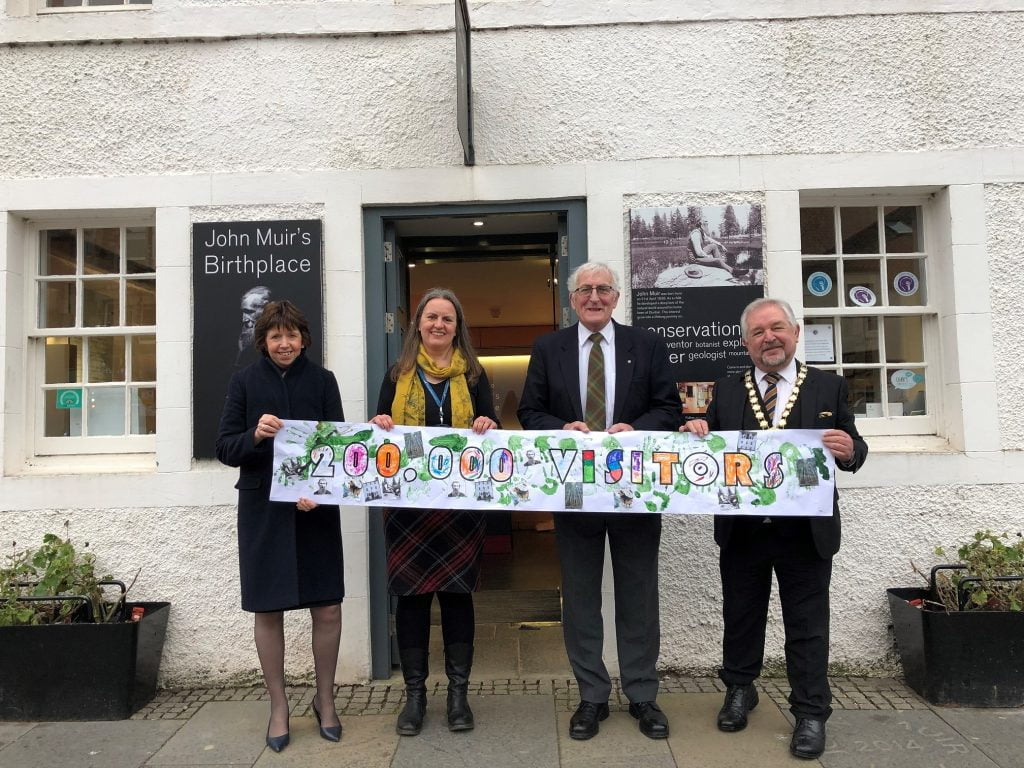 John Muir's Birthplace reaches 200,000 Visitors!
Cherry Trees Nursery helped John Muir's Birthplace celebrate our 200,000th visitor today (Wed 4th March 2020), along with Chair of trustees Duncan Smeed and East Lothian Council museums staff Tracy Robertson and David Anderson.
To mark the occasion children displayed the 200,000 banner they have made for the occasion. They were also presented with an individual memento and a John Muir book for the nursery.
The past sixteen and a half years have seen John Muir's Birthplace maintain a Visit Scotland five star visitor attraction and Gold status Green Tourism Business Scheme grading attracting regular local visitors, tourists from across the UK and overseas. Visitors from the USA are particularly keen to visit the birthplace of conservation and the National Park movement.
Special guests have included John Muir descendants; Ellen Wong, Principal Officer of the US Consulate in Scotland; Prince Edward, Prince Charles and television presenters Michael Portillo from Great British Railway Journeys and David Harper from Antiques Road Trip.
John Muir's life and work has inspired people all over the world. He emigrated to America when he was 10 years old leaving Dunbar on the North British Railway which had arrived in Dunbar just three years earlier in 1846. The family settled in Wisconsin. John left home in his twenties to study at Wisconsin University before setting out on his 1,000 mile walk from Indiana to the Gulf of Mexico. John settled in California and devoted his life to campaigning to protect wild places.
The Dunbar birthplace of the pioneering conservationist is a stunning interpretative centre highlighting the work and achievements of this remarkable man. The Birthplace team run regular family drop-in activities during weekends and school holidays as well as delivering activities for visiting school groups.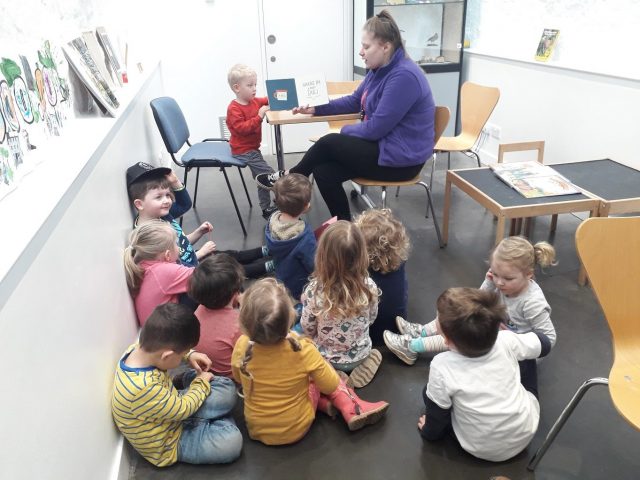 Kerry Lugton, Manager for Cherrytrees Nursey said "children from the nursery love the chance to walk along the High Street to visit John Muir's Birthplace. The friendly staff always have something new to show them and they really enjoy the drop in craft activities".
Duncan Smeed, Chair of John Muir Birthplace Charitable Trust said "2020 is an exciting year as we focus our exhibitions and activities on the climate emergency. Birthplace staff and the Trust are working together with the Friends of John Muir's Birthplace and with other groups in Dunbar to focus on John Muir's role as an environmental activist and successful campaigner and his relevance for our situation today. From April onwards the Friends' exhibition and the programme of events organised with the help of these other groups will set the scene for a journey of community-led change away from high resource use and high C02 emissions, towards a more resilient community with a diverse and local economy and a vibrant culture with an equitable, sustainable future for all."