Happy Birthday to Us!
John Muir's Birthplace in Dunbar opened its doors to the public on 23 August 2003. In the last 15 years, we have welcomed over 180,000 visitors from all over the world, and led them on a discovery of John Muir's legacy.
John Muir was born on 21 April 1838. As a child he developed a deep love of the natural world which he explored around Dunbar. This interest grew into a lifelong journey, both physical and spiritual, of exploration, revelation, hardship and wonder. Arriving in Wisconsin at the age of 11, his later introduction to Yosemite Valley, California, resulted in his campaign to preserve wilderness. This led to the establishment of the first National Park system. Today, he is remembered as a pioneer of the modern conservation movement, and his message is as relevant now as it was then.
The last 15 years have brought many key moments, from visits by royalty, Prince Edward on 2008, and Prince Charles in 2009, to the opening of the John Muir Way in 2014 including a visit by the First Minister, Alex Salmond. Mr Salmond was memorably joined by a whole group of bearded 'John Muir's at the beginning of the Way in Dunbar! (below)
Some of our favourite visitors have been those with a connection to John Muir himself, some of his direct descendants have made a pilgrimage to Dunbar and have been visibly moved by their experience, most recently his Great Granddaughter, Gail Culbertson (below).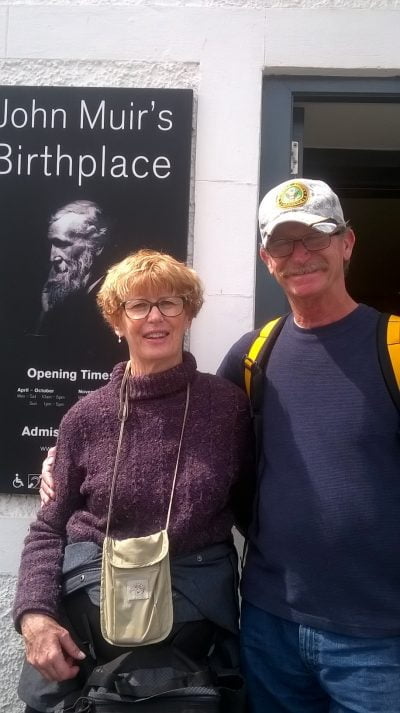 We have also enjoyed spreading John Muir's message to new generations, and each year around 1200 Primary 5 pupils from East Lothian visit the Birthplace as part of their John Muir Citizenship Project which also includes drama and dance sessions as well as visits to local nature hotspots with East Lothian Ranger Service.
The John Muir Award, which earlier this year celebrated its own 21st Birthday, is also going from strength to strength and we are delighted to welcome many groups undertaking different levels of the Award to give them an introduction to John Muir.
John Muir's Birthplace is proud to be a Gold Green Tourism Venue and a 5* VisitScotland Visitor Attraction, showing our continuing commitment to conservation and quality and we look forward to many more years of spreading John's words… ' I care only to entice people to look at nature's loveliness.'