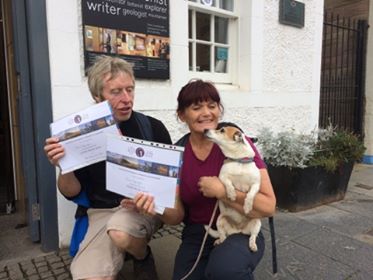 John Muir Way News!
September has proved a busy month on the John Muir Way, with a diverse group of visitors coming in daily to claim their completion certificates.
Zara is not the first dog to have completed the John Muir Way, but we felt her very little legs mean that her 134 mile adventure deserves a special mention. Zara is pictured here with her owners, James and Jacquie.
We were also delighted when a group of ladies who all met when working for the US National Park Service visited, also after having completed the John Muir Way.  The group were organised by Roberta Moore, an alumni of Great Basin National Park, who has previously visited John Muir's Birthplace. Several of the ladies had worked at Yosemite, and were delighted to watch our film of their beautiful park. As you can see from the photo, the weather was not kind to them, however it definitely didn't dampen their spirits!
If you intend completing the John Muir Way and finish in Dunbar, don't forget to pop in to see us and collect your certificate!