Part 10 – Muir Rediscovered
We left our tale of John's Birthplace in the 1920s. With the passing of years, and the passing of his last relatives and friends in Dunbar, local awareness of John's career and significance was lost from common knowledge. It took a trickle of American visitors to begin the process of rediscovery!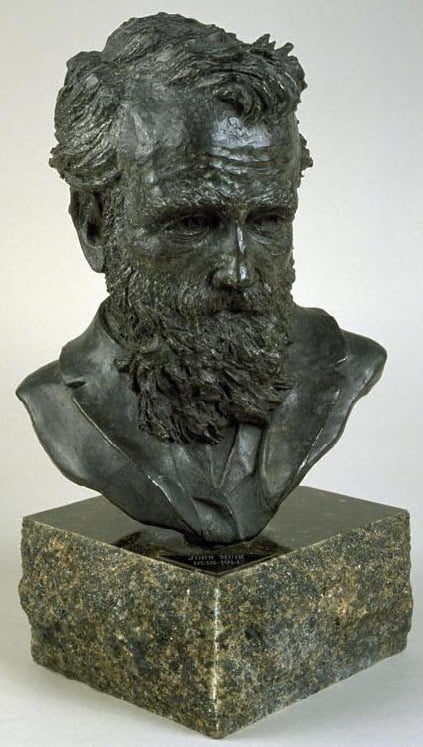 The first arrivals came on the back of an initiative in Martinez, California. There, a group had formed to ensure a fitting memorial to California's greatest son and to preserve his marital home as a monument for future generations. Harriet Kelly of Martinez is still remembered in Dunbar. She visited twice in the early 1960s and enlisted the help of Dunbar's town clerk and other locals to uncover some of the forgotten story, linking John's writing and photographs to the places that they belonged.
Bill and Maimie Kimes, Muir biographers, made more connections when they visited in 1967. They made a disciple in Frank Tindall, then the County Planning Officer, who helped them ensure that the Birthplace was marked with a fitting plaque. A few years later Frank was able to convince the Hawryluk family, the proprietors of the building, to abandon plans to convert much of it from a dry-cleaning facility into a fish restaurant. Frank and another local official, Ian Fullarton, were able then to lease the top floor of the building for a small 'tribute' to Muir – some re-imagined rooms and an audio-visual presentation. This opened in the early 1980s managed by East Lothian Tourist Board, who staffed it seasonally. And so it remained into the early 1990s. Then a new proposal surfaced.
John Muir was becoming much more widely known in his homeland. Connections between Dunbar and Martinez had been forged. The John Muir Trust had begun its work 'to defend wild land, enhance habitats and encourage people of all ages and backgrounds to connect with wild places'. And East Lothian District Council floated an idea to build a 'John Muir Centre' within John Muir Country Park to pick up that theme.
This idea came to nothing but it stimulated local discussion and a new beginning.
There had been enough knowledge, as we have seen, to establish the first 'Muir Museum' on the top floor of his renovated birthplace. The baton was picked up by Dunbar's John Muir Association in the 1990s. To realize their ambitious plans a lot more groundwork was done. Not least, in exploring John Muir's Dunbar and finding the hidden paths that John surely trod – to school, to church, on excursions with Grandfather Gilrye. This process, aided greatly by John's own written accounts, began to uncover other facets of both buildings. The Association's efforts culminated in success. A new multi-partner trust was formed to purchase the building and seek funds for its development and a 'new' Birthplace Museum opened in 2003. It incorporates all of the building's structure that had survived the impulses of multiple owners since the Muirs left and it addresses Muir's story for a contemporary audience. Over 200,000 visitors have passed through the doors since it opened.
Our Work Continues
Meanwhile, discovery has proceeded apace. One of the driving forces has been our visitors themselves. We are often asked about the buildings; we are sometimes told of family associations relating to other occupants; we are sometimes told of a snippet about the buildings we didn't know. But the main thing is that we don't like to be stumped!
The creation of East Lothian's new Archive & Local History Centre above Haddington Library in the John Gray Centre was another stimulus to research. All at once there were untouched sources readily available! In fact, one of us used a secondment there to provide the bare bones of a house history:
These pages formed the framework to this series of blogs – although we've gone into much more detail here. They take you through the steps of unearthing any urban Scottish house history, although resources available differ from place to place. Of course, since the pages were written, the Internet has grown apace. It is relatively straightforward today to access digital copies of primary sources that were simply not available ten years ago. We are fortunate because many of the inhabitants of the two Dunbar house associated with the Muir family had unusual surnames – Fall, Delisle, Wightman – and, as it turns out, include some significant characters – Philip Delisle of Calcutta, Dr Charles Wightman of Newcastle.
However, it is harder to say much about the people that lived in the Birthplace and its neighbour in the Victorian period. Where did Mrs Fish the teacher come from? And who attended her school? For this kind of detail we're much more reliant on other family historians and people that pop though the door.
So, if you have made a connection through our blogs, or have a story to tell us – please do! We are open Tuesday – Saturday 10am – 5pm (last entry 4pm) and we'd love to see you, to chat, and to share stories.
Back to Exhibitions