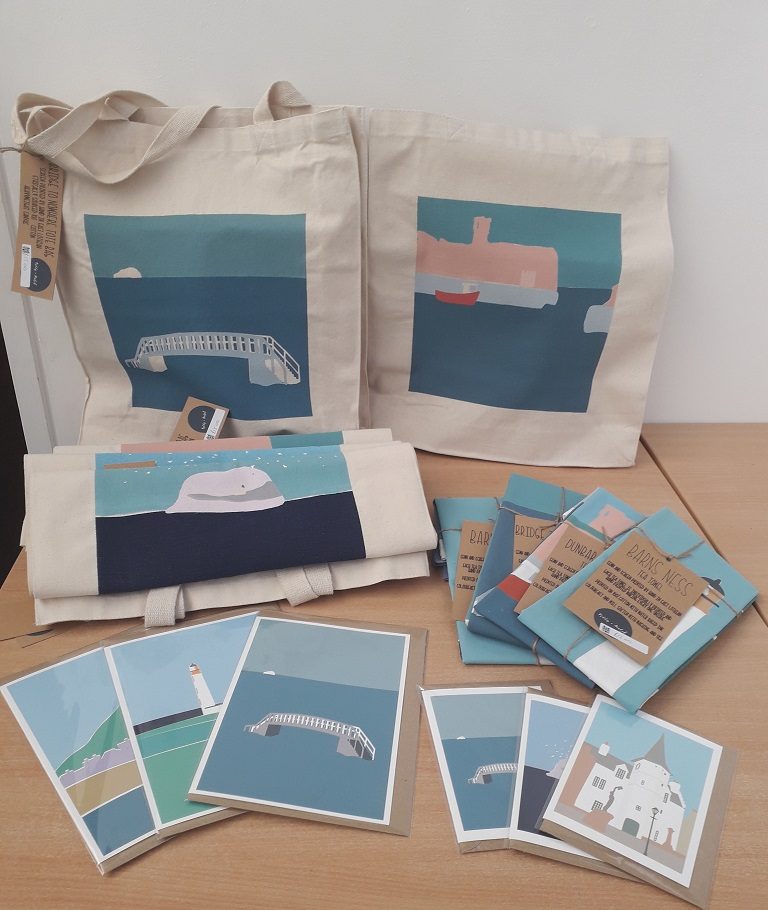 New in!
We are delighted to have some lovely new stock in for this summer.  Fiddy + Mabel is produced locally in East Lothian, and is the brainchild of Harriet Forster.  Harriet says of her new brand:
Fiddy+Mabel was born during the pandemic in 2020, at the time I owned a consultancy with mostly retail and hospitality clients, so when they were forced to close, my work was suspended too. I had always wanted to do something creative, creating and making has always been my hobby, and was struck with the idea that I wanted to print tea towels, something I had never done before, so I sold my consultancy and launched Fiddy+Mabel!

I taught myself how to screen print, and in August 2020 I launched! I create mostly Scottish designs, capturing landmarks and views in a simple, modern and unique way, and I started with the beautiful East Lothian as that is where I live. The tea towels have now developed into printing tote bags, cards and mounted prints, and I hope to continue to expand my product range. I also create bespoke commission pieces, which is a huge privilege and honour to take on for my clients, and have created designs all sorts of occasions which is great fun.

Fiddy+Mabel is named after our two black Labradors (Fiddy's full name is Fidra!), who live with my husband and I and our 4 year old twins in a cottage in East Lothian. We love spending time exploring and enjoying the coast and countryside around us – and it is the perfect inspiration for me!
In stock in John Muir's Birthplace, we have:
tote bags, screen printed by hand on 100% ethically sourced cotton;
teatowels, screen printed onto 100% cotton, they are completely colourfast and machine washable, and come with a hanging loop;
cards – printed on 260gsm hammer texture white card and come with a 100% recycled kraft envelope.
Designs are all inspired by the East Lothian landscape and include Bass Rock, Bridge to Nowhere, Dunbar Harbour and Castle, Dunbar Town House and Barns Ness.  You can see the full range of Fiddy + Mabel on Harriet's website, www.fiddyandmabel.com.