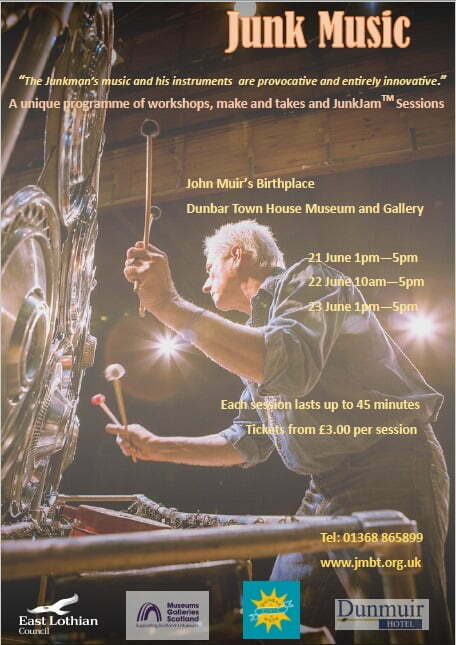 Junk Music
For Dunbar Civic Week, John Muir's Birthplace and Dunbar Town House Museum and Gallery are delighted to present JunkMusic (sponsored by the Dunmuir Hotel), played by JunkMan – Donald Knaack from Friday 21 – Sunday 23 June.
The Junkman™, percussionist/composer, and environmentalist Donald Knaack is the original recycled materials percussionist. He's the Daddy of Eco-Beat, following in the footsteps of his mentor and collaborator, John Cage, by creating music and cutting-edge environmental awareness that transcends all styles and genres. His much-acclaimed concerts and interactive Junkjams™ impart timely messages regarding the health of Mother Earth, cultural tolerance, and how our personal behaviour affects other people's personal space and rights.
In his music, The Junkman™ fuses the avant-garde with head-moving ear candy, and rhythmic muscle to form an irresistible edutainment experience!
Over the course of Friday afternoon, Saturday and Sunday, there will be a combination of Concerts, Workshops and Make and Take sessions led by JunkMan, aimed at both individuals and families. Numbers for each session will be limited and can be booked in advance through John Muir's Birthplace at prices from £3 for a single ticket and £7.50 for a family ticket.
Interactive Concert Performance: An odyssey of highly original music with diverse styles of influence and great grooves. The Junkman™ performs on his rack of over 60 re-used materials and culminates the show with a Junkjam™ where the audience gets to join along in making music.
Make-& Take: A chance for children and parents to make a high-quality recycled materials percussion instrument with The Junkman™ and then take it home.
Interactive Eco-Workshop: Explores the basic science, math, and technology principles utilized in Junk Music™ and relates them to the environment. This workshop is interspersed with an interactive Junkjams.
Further details can be obtained by calling John Muir's Birthplace on 01368 865899 or email museumseast@eastlothian.gov.uk.